Read, Eagles, Read!
READ-A-THON..... is here at Freedom Hill!
It's another AWESOME 2+ weeks of READING!!
Thursday, March 2nd through Friday, March 17th, 2023
This event was celebrated in all classrooms in 2022, and was one of our biggest PTA fundraisers of the year.
Dear Freedom Hill Families and Friends,
Our goal is to encourage a love for reading while raising funds for our school. In 2022, Freedom Hill students read more than 300,000 minutes! Let's encourage our students to read MORE this year!
Why are we having a Read-A-Thon?
The PTA supports a variety of programs that directly touch every student at Freedom Hill Elementary School.
The proceeds collected from Read-A-Thon will be used for refreshing two aging non-fiction genres in the bookrooms for all students, as well as to support hands-on materials for our phonics initiative for grades K-3 students.
How to register your reader?
It's as easy as 1 - 2 - 3....Go!
1 - Go to this link, https://www.read-a-thon.com/readers/r/HwhYsZ
2 - Search for your teacher's name (No secret code needed.)
3 - Register your reader
Go - Send out emails, texts, facebook posts or donate!
Prizes
Bookmark and finger flashlight for every registered student!
Individual Read-a-thon prizes in the catalog based on money raised
Classroom level prize each week (PJ day, movie, etc.)
School-wide prize for raising $10,000 - Water balloons thrown at the Principals during Field Day!
Thank you
Please join our efforts to support our wonderful school community - every little bit counts!
Thank you for your support!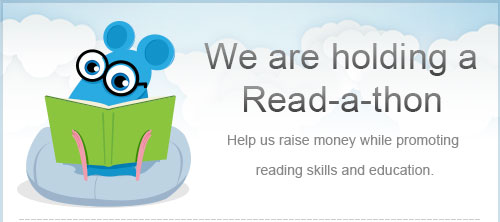 We will be started on:


2023-03-02